Dutch islands of the North and Friesland
We are very sorry to disappoint but Holiday 2107 The Dutch islands of the North and Friesland is currently fully booked. However we are holding a waiting list in the case that someone(s) drops out. If you would like to be added to this list then please use the form on the Contact Page, with your details, and we will add you to the list and keep you updated.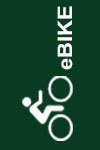 On line Booking Form Display Issues
Message for Apple iPhone, iPad and other mobile device users
If you have any issues displaying the on line Booking Form properly on your device you may need to change a setting in Safari. to do this go into Setting, scroll down until you find Safari >> open >> scroll down to >> Privacy & Security >> turn off 'Prevent Cross-Site Tracking' >> exit Settings. Apple inappropriately turn this setting on by default. You should now be able access the on line Booking Form properly. If you are using Google Chrome or another Web browser application on your Apple device you can use this in the normal way without any issues displaying the BookinG Form. However If you encounter this issue on other brands of mobile devices please contact Cycling With Us for advice.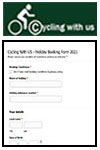 Booking Form Alternatives and Options
As well as the on line Booking Form facility if you have any problems or prefer you can also download a hard copy version in Microsoft office and PDF format. All you need to do is complete this and email to Cycling With us. Please see the Contact Page for all contact details including an email address. If for any reason you prefer to mail this please send directly to: Cycling With Us, The Nest, Hambledon Road, Denmead. PO7 6QF.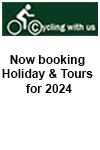 What's included in the price on all our holidays
Return travel from UK port to your holiday destination for you and your bicycle. Full Board on all Bike & Boat holidays. Half board on all Bike and Hotel holidays. All entry fees to attractions visited. by the group. Accompaning Cycle guides. Car parking at the start can be arranged.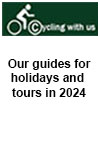 Travel Trust Assiciation
Cycling With Us is a member of the Travel Trust Association (TTA) and fully comply with their code of conduct. The TTA were established in 1993 and are a trade association of over 650 independent travel agents and tour operators.